Peppy Fit Foodie here! I met the gang from Quevos at their booth at Idea World 2018 in San Diego, California. I loved the idea of taking egg whites and making them into a chip. I love my morning avocado toast with fried egg whites, so hello?!? Chips? Yes, please add them to my lunch menu for sure! Sign me up! Almost a year later and I get an email announcing their Kickstarter campaign. I immediately sent a congratulatory email back wishing them the best of luck. Zack was awesome and sent me a sample pack of the new and improved versions. I thought the chips were great when I first had them, but this new version went beyond my wildest expectations!

A week later I took them hiking and surprised my friend Cindy. Imagine her surprise and delight when I told her that they were made from egg whites! She never would have guessed. As active women, we are always looking for new and innovate ways of adding healthy proteins. The flavor, crunchiness, and vibe are that of a potato chip, but packed with yummy goodness. I can't wait to surprise more friends, and my hubby, with Quevos on more adventures! Peace out Peeps!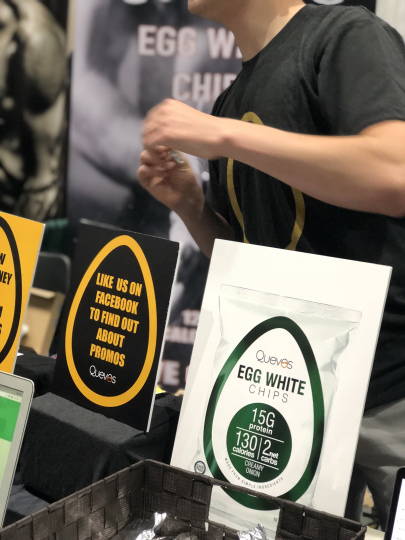 What really stood our was the new start-up, Quevos. They make egg white chips that are crunchy and light with 15g of protein. Chips that are good for you. It was a different take on the whole idea. Add a little guacamole and I am good to go!
— Kathy Rodriguez